The Complete Guide to Trucking Business Loans


Everything You Need to Know About Trucking Business Loans
The best approach to help your commercial transportation firm is to get a trucker's business loan. For trucking companies, the most important thing is to know which sort of finance delivers the best return on investment.
Trucking business loans can be used for a variety of purposes, including operating expenses, the acquisition of new equipment, the recruitment of new staff, and the improvement of existing facilities. It's important to have a trustworthy lender for trucking business loans to keep things running properly.
Below, you'll discover where to get trucker business loans and what kinds of loans are accessible to you. Welcome to the complete guide to trucking business loans!
What is a Business Loan for a
Trucking Business?
Owner-operators and trucking small business owners with a staff of drivers can apply for a trucking business loan, which provides operating capital for the purchase of a commercial truck or fleet of vehicles.
The truck you are buying serves as security for the loan; thus, unlike other secured loan types, there's no need for you to put any money down.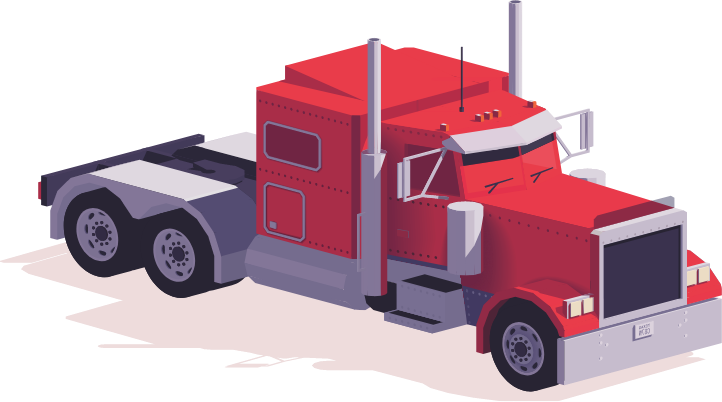 Trucking Business Loans Pros
No Cash Collateral Is Necessary
The fact that no financial collateral is needed for trucking financing makes it much simpler for small enterprises, which typically lack the funds to fully purchase a commercial vehicle. The truck or other machinery you're buying serves as the collateral.
Minimum Interest Rate
You often qualify for cheaper interest rates than you would with other unsecured working capital loans because the truck is your security. Long-term savings on the debt may be possible as a result.
Payout Period May Be Long-delayed
Your debt will be substantial if you're purchasing a full fleet. Your monthly loan payment will put less of a strain on your income the longer you have to pay it off.
Trucking Business Loans Cons
You can seize a truck
Although you naturally hope to be able to repay your equipment loan, should the unexpected occur, skipping a few payments could result in you losing your truck. It may put your company in danger if your lender decides to seize it to make good on the unpaid debt.
A Down Payment is necessary
While there is no requirement for cash collateral, you will still be required to pay a down payment, which ranges from 5 to 25 percent depending on your credit.
Truck Value Declines Rapidly
A commercial truck's worth will decrease quickly, just like any other form of machine. You can sell it once the loan is repaid, but only for a small portion of what you originally paid.
Speak To A Trucking Loan
Specialist Now!
How to Choose the Best Loan For Your Trucking Business
Any entrepreneur who wants to find the best business financing, like trucking business owners, must do their research. Simply put, there are simply too many commercial truck loans with too many distinctive factors for a successful match to happen by accident.
For trucking companies, the problem is made worse by the fact that many lenders consider the industry to be high risk because of its volatility. Additionally, some of the most practical kinds of financing are less applicable due to the significant costs connected with trucking.
The good news is that you have access to funding. Finding the best commercial truck loan choice for your needs simply takes time. But once you've obtained the loan, you'll be able to support your business idea and expand it to the fullest extent. Here are some elements to consider to get the perfect business loan:
What To Look For In a Trucking Business Loan
You can narrow down your list of potential small business loans using a variety of sites. Additionally, you should pay particular attention to a loan's unique price parameters. The following three metrics are used to divide loan payments into more manageable portions:
Annual Percentage Rate (APR)
This metric is one of the most commonly brought up in discussions of money. The interest rate on the loan is broken out annually for clarity's sake.
This indicator can help you determine how the impact of a loan would be on your normal flow of money, which is helpful given that many budgets are built on a monthly model.
Total Cost of Capital (TCC)
This statistic is on the opposite end of the spectrum, and it gives you a comprehensive amount by essentially combining all of the interest and fees that you have to pay.
Qualifying For a Business Loan For Trucking Companies
When considering applications for financing from trucking companies, financial institutions consider a number of distinct criteria, including the following:
This means that you will have sufficient funds from your business revenue coming in to repay the payments on your loans. It also has an impact on the amount of money you can borrow.
Lenders will look at both the personal credit scores or credit history of the owners of the firm as well as the credit scores of the business. Minimum Credit Score, most financing providers will want to review your credit score. Due to this, you'll need to raise your score before applying if you have bad credit. A minimum credit score to receive a loan is 610 to 640.
Once you have received the funds, you will be required to provide an explanation of how you intend to use the loan program they may provide.
You should be prepared to provide a minimum of three months' worth of bank statements to verify your income and expenses.
Get the capital you need to allow your trucking business to grow, today!
Determining Factors to Get the Best Loan for Your Business
Trucking is one of the industries in the United States that is seeing rapid expansion, making it a compelling way to make a career. However, starting a career in it might be pricey. Determining the appropriate option for equipment financing is crucial. You should take into account the following things to secure the best financing option for your trucking company:
The length of time you have to repay the loan is known as the loan term. The monthly payments will be cheaper the longer the loan duration, but you will end up paying more interest overall. Although some loans have a maximum period of 10 years, the typical loan term is 60 months (5 years.)
You will pay more interest the higher the interest rate is. To make sure you obtain the greatest deal, search for the lowest interest rate possible. Competitive rates are essential for trucking business loans.
The cost of the item you intend to purchase is at the top of the list of criteria determining the loan amount, which is how much money you need to borrow. This aspect will also determine the type of loan you can acquire. You'll probably require a commercial loan for substantial amounts. Smaller loans are accessible through credit cards or personal loans.
Improving the Odds of Getting a Trucking Business Loan
Due to the potential for inconsistent solid income sources, many lenders think that the trucking sector entails a higher level of risk. Additionally, some lenders are unfamiliar with the trucking industry. You can, however, take measures to raise your chances of obtaining financing. The following are some recommendations for improving the odds of getting a trucking business loan:
Separate Business and Personal Incomes
Trucker owner-operators who work for other trucking companies may find it challenging to qualify for conventional small business loans. This problem is partially caused by the industry's unpredictability and fluctuating revenue. If you desire to fund, be sure to segregate your personal and corporate revenue.
Improve Your Personal Credit Score
In order to receive a company loan, your personal credit score is quite important. Gaining higher business credit scores may allow you to borrow more money or get authorized for greater loan amounts.
Apply For Your Credit When Revenue is Up
A trucking company's annual revenue is the second most crucial consideration when submitting an application for a business loan. To maximize your chances of getting accepted for a trucking business loan, you should plan ahead and apply at the right time. The best time to apply for the loan you desire is when your revenue has been rising steadily for the past three to six months, if possible.
Eliminate Unnecessary Spending
The debt service coverage ratio (DSCR) of your business will go up the less money it spends each month. Lenders use DSCR to figure out if you can pay back the money you want to borrow. In general, many lenders won't give you a loan if your DSCR is less than 1.25. To figure out your DSCR, divide your business's annual net operating income by its debt payments for the current year.
Keep Adequate Insurance Coverage
If you already run a freight business and own a truck, your lender will want to know what insurance you have on your equipment. If you have enough insurance, your lender will be more likely to give you money for more equipment because they will know that the collateral will cover the remaining balance if something goes wrong.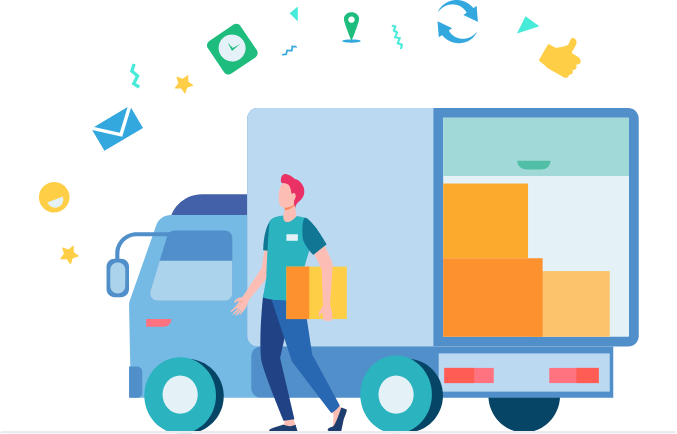 Types of Business Loans for Commercial Truckers
When it comes to financing options for trucking companies, there are a few to choose from. You should think about equipment financing if you want to buy a commercial truck. You might also be able to get help from the SBA Microloans program, which gives out loans of up to $50,000 to cover costs.
Let's look at the different kinds of loans so you can find the best one for your commercial trucking business or transport company.
Small Business Administration (SBA) loans for trucking companies are versatile and can be used for a variety of things, such as the purchase of a commercial vehicle and other equipment, company expansion, or as working capital for operational costs. Quick Capital Funding can definitely help you apply for an SBA Loan for your trucking business.
Financing for the purchase of equipment is what it sounds like: money. These equipment loans can entail investing in a new or used commercial truck, a trailer, or other long-term physical assets for the trucking business that are required for operations. With this kind of financing, you may divide the cost of pricey equipment into smaller, more manageable installments for your business expenses.
Medium-Term Installment Loans
A loan that is repaid over a period of one to five years is referred to as a medium-term installment loan. With this kind of loan, you can acquire operating capital or break up the cost of acquisition while repaying with small monthly installments.
Business Lines of Credits
A business line of credit is basically a credit card. A lender sets a borrower's credit limit and allows multiple draws up to that amount. You only pay interest and fees on a business line of credit. If you have a $200,000 credit line but only spend $50,000, you'll only pay interest on $50,000.
Short-Term Trucking Business Loans
Term loans are short-term loans that must be repaid in a smaller period of time, which will not be more than one year.
The most expensive form of credit, short-term loans, should be used by small businesses only when absolutely essential.
A trucking company's credit card, when handled sensibly, can be a huge advantage. Revolving credit lines are available to businesses using a business credit card. For emergencies, this is extremely useful.
Invoice Factoring For Transport Business
Consider invoice factoring for transport business if unpaid invoices are affecting your cash flow.
Technically, invoice factoring is not a loan. You offer your unpaid invoices to a lender instead. Your invoice is purchased at a discount by the lender. The lender receives a discount for offering money to you right away, then later collects the money from the invoices, and the remaining amount goes into your pocket.
How to Use Trucking Business Loans
Trucking business loans are used to finance a wide range of expenses, whether they are specific to the trucking sector or common to businesses in general.
The following are some examples of what you could do with a trucking company loan:
Loans against working capital can be an effective means of growing an already established business.
Purchasing New Trucks and Equipment
Did you know that commercial truck loans double as equipment loans? Semis are the focus of a whole area of equipment financing, which also includes leases with buyout options tailored to long- and short-haul vehicles like commercial trucks.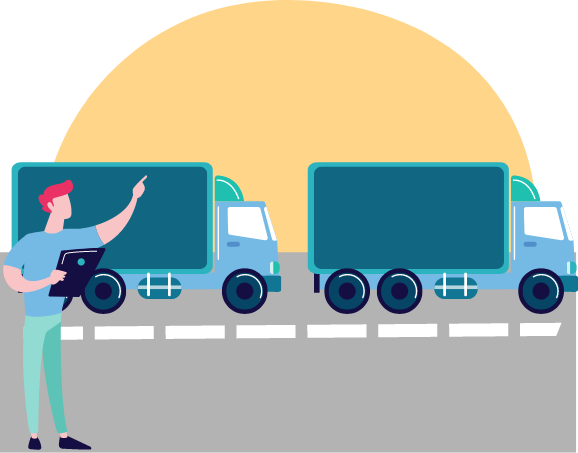 A loan may be a quick option to hire more staff if you are facing an unexpected increase in demand.
Save Money on Inventory Purchases
Taking out a loan might be a useful strategy for achieving economies of scale in your shopping.
Update Your Trucking Technology
There is more to logistics than just the truck. It costs money to stay on top of technology that boosts the productivity of your company.
How Quick Capital Funding Can Help
Quick Capital Funding will help your trucking businesses to know more about the best trucking business loans and your loan options. We've teamed up with top investors to develop a comprehensive answer to all small business finance problems. We use cutting-edge technology to assess your company's success rather than your personal credit.
We devised a simple and rapid method of borrowing funds. We'll go through hoops to get your trucking business the money it needs to expand right now. If you need help, call our team at Quick Capital Funding today!
We know that the world of loans is not easy to wander, less when you have a transport business to run. We hope this guide has given you an idea of how to stay alert and tackle any financial problems you might have regarding your trucking business. The Quick Capital Funding team is always available to answer all your questions and get you the loan you're looking for!
Quick Capital Funding is willing to guide you in the right direction of getting the loan you deserve.